Install and upgrade Python packages using pip on Windows, Linux, and Mac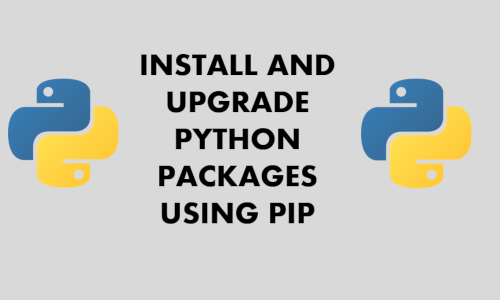 pip is Python's official package manager and is a recommended method for installing, upgrading, and uninstalling the Python packages.
Check below how to install and upgrade the pip on Windows, Linux, and Mac for managing the Python packages
Installing and upgrading pip
pip is a package (bundle of software) installer for Python.
In order to use pip, it is required to install Python (Python 3 >=3.4). You can check here for installing Python 3 on Windows, Linux, and Mac from the source. Additionally, you can also check the Python installation guide for installing Python from OS specific package manager.
Note: If you have installed Python 3 from the source, you should add the Python executable in the system path variable to be able to run Python commands from any path in OS. Check how to add Python executable in system path variable for Windows, Linux, and Mac
Check pip version
If you have already installed Python 3 (>=3.4), you can run the below shell command to check the pip version
# Windows, Linux, and Mac
# using pip


pip

 

--

version




# output if installed


pip

 

20.1

.

1





python

 

-

m

 

pip

 

--

version




# output if installed


pip

 

20.1

.

1



If pip is not installed, use ensurepip to install pip (see below)
Install pip using ensurepip and conda
# Windows, Linux, and Mac


python

 

-

m

 

ensurepip

 

--

default

-

pip





# within conda environment


conda

 

install

 

pip



upgrading pip to the latest version
# Windows, Linux, and Mac
# using pip


pip

 

install

 

--

upgrade

 

pip





# using Python


python

 

-

m

 

pip

 

install

 

--

upgrade

 

pip



Installing a specific version of pip
# Windows, Linux, and Mac
# using pip


pip

 

install

 

--

upgrade

 

pip

==

21.0

.

1





# using Python


python

 

-

m

 

pip

 

install

 

--

upgrade

 

pip

==

21.0

.

1





# using easy_install (deprecated)


easy_install

 

pip

==

21.0

.

1



Installing and upgrading Python packages using pip
Installing Python packages
# Windows, Linux, and Mac
# using pip (replace bioinfokit with required python package name)


pip

 

install

 

bioinfokit





# using Python


python

 

-

m

 

pip

 

install

 

bioinfokit



Upgrading installed Python packages to the latest version
# Windows, Linux, and Mac
# using pip (replace bioinfokit with required python package name)


pip

 

install

 

--

upgrade

 

bioinfokit





# using Python


python

 

-

m

 

pip

 

install

 

--

upgrade

 

bioinfokit





# upgrade all installed packages at same time using pip-review (need to install pip-review package)


pip

-

review

 

--

auto



Install a specific version of Python packages
# Windows, Linux, and Mac
# using pip (replace bioinfokit with required python package name)


pip

 

install

 

--

upgrade

 

bioinfokit

==

2.0

.

0





# using Python


python

 

-

m

 

pip

 

install

 

--

upgrade

 

bioinfokit

==

2.0

.

0



Install specific packages from requirements files
requirements file (requirements.txt) contains the name of Python packages that need to be installed
# Windows, Linux, and Mac
# using pip


pip

 

install

 

-

r

 

requirements

.

txt





# using Python


python

 

-

m

 

pip

 

install

 

-

r

 

requirements

.

txt



Uninstall Python packages
# Windows, Linux, and Mac
# using pip (replace bioinfokit with required python package name)


pip

 

uninstall

 

bioinfokit





# using Python


python

 

-

m

 

pip

 

uninstall

 

bioinfokit



Check Python package version
# Windows, Linux, and Mac
# using pip (replace bioinfokit with required python package name)


pip

 

show

 

bioinfokit




# output


Name

:

 

bioinfokit




Version

:

 

2.0

.

4




...





pip

 

freeze

 

# it will list all installed packages with their version
# output


adjustText

==

0.7

.

3




bioinfokit

==

2.0

.

4




...





# using Python


python

 

-

c

 

"import bioinfokit; print(bioinfokit.__version__)"




2.0

.

4





# using Python interpreter


>>>

 

import

 

bioinfokit




>>>

 

bioinfokit

.

__version__




'2.0.4'



References
If you have any questions, comments or recommendations, please email me at reneshbe@gmail.com
This work is licensed under a Creative Commons Attribution 4.0 International License